Today, we've announced that Macro's document editor and AI document chat are out of beta and available to all Macro users, along with significant improvements to our Compare functionality.
This is the next step for Macro as an all-in-one document workspace for knowledge professionals, and we're very excited to unveil 3.0 🎉.
The short version
You can now edit documents, both Docx and PDF, right from Macro, with all the capabilities you would expect from a best-in-class document editor.
We've trained AI on thousands of legal documents so that you can ask precise questions or use AI to draft and summarize documents.
Compare outputs now render in red (deletions), blue (insertions) & green (moves), and we've added the ability to compare a wider variety of document formatting, including page numbers, tables, sections, table of contents, and more.
An inside look at Macro's new superpowers
📝 Editor (Early Access)
💡 Note: Editor mode is available to all Macro users except for select Enterprise customers, which will be rolled out gradually. If you cannot access Editor just yet, contact your systems administrator or our support team at support@macro.com.
Opening any DOCX file in Macro will automatically open the editor. If you are on a PDF file and want to switch to editor mode, click on "PDF" and switch to "Editing."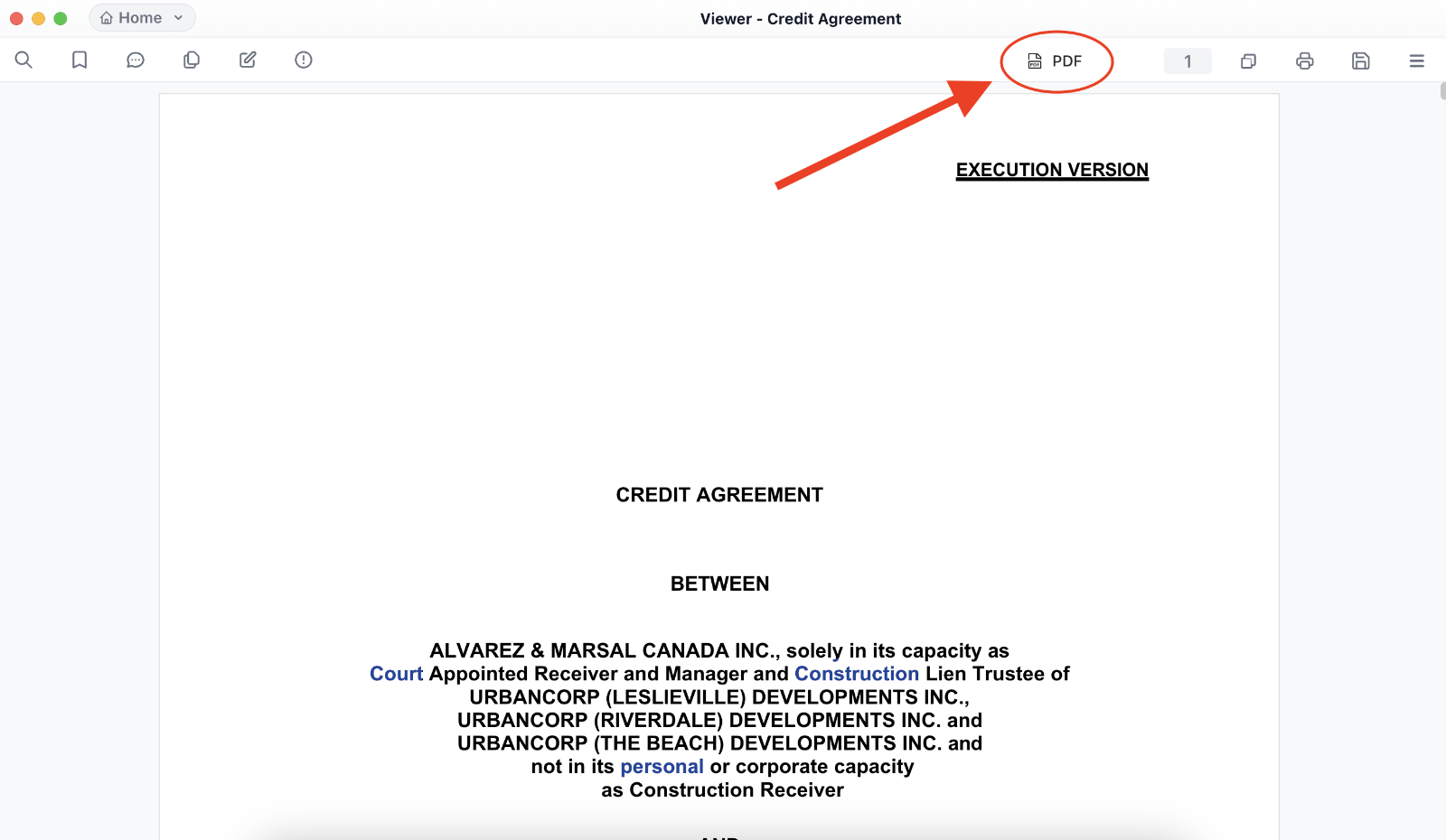 You can also choose "Track Changes" to make your edits tracked changes when collaborating with others.
Draft & edit contracts faster
Editor comes with embedded AI and workflow improvements. By simply typing "@", you can:
Ask Macro's AI to write text.
Ask Macro's AI to generate definitions.
Insert anything into your document, like images, tables, videos, headers, footnotes, and more.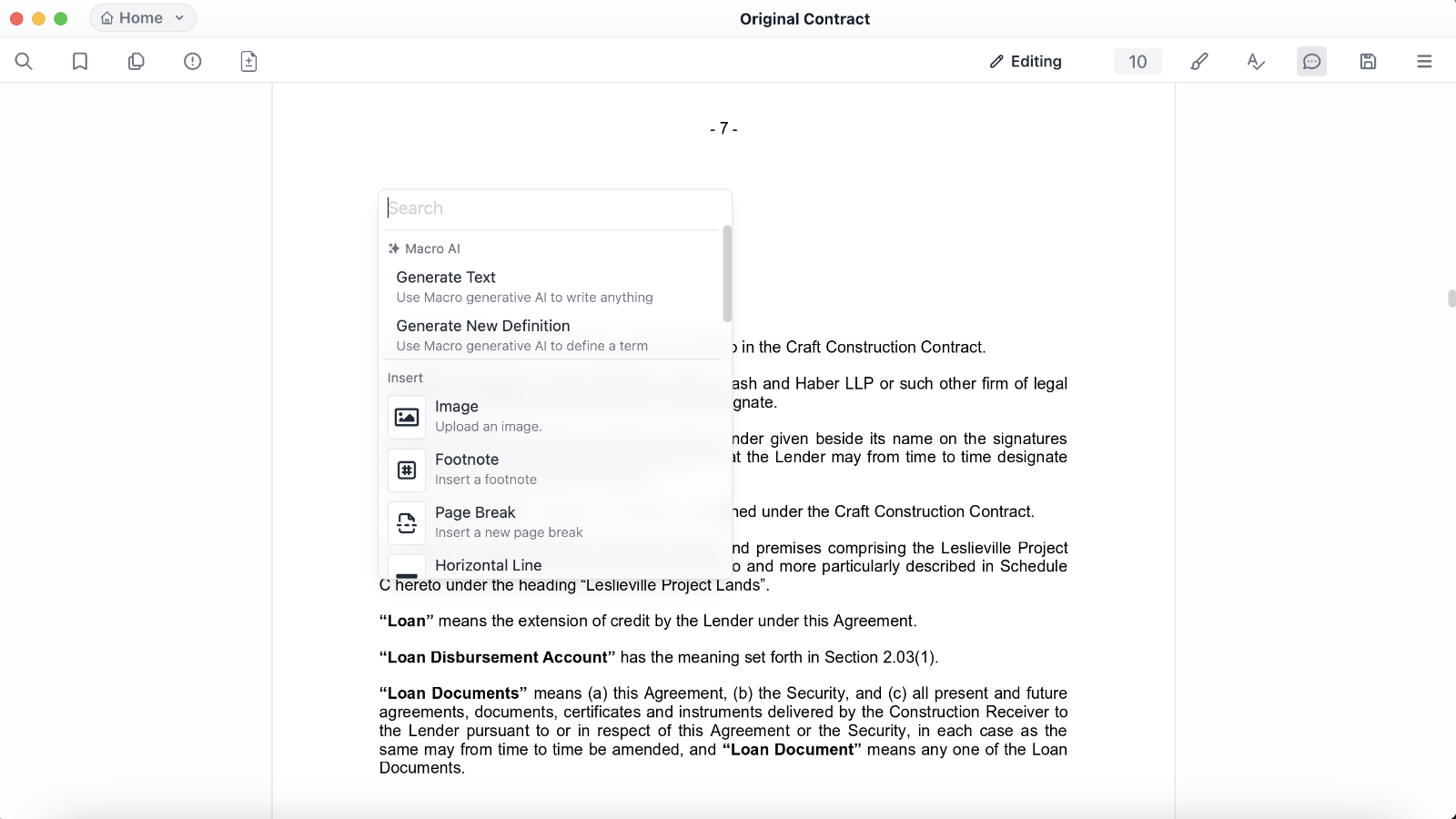 To avoid unnecessary ribbons that blur your focus when writing, our team has embedded actions under the "@" action, or in a ribbon that appears when you highlight text 👇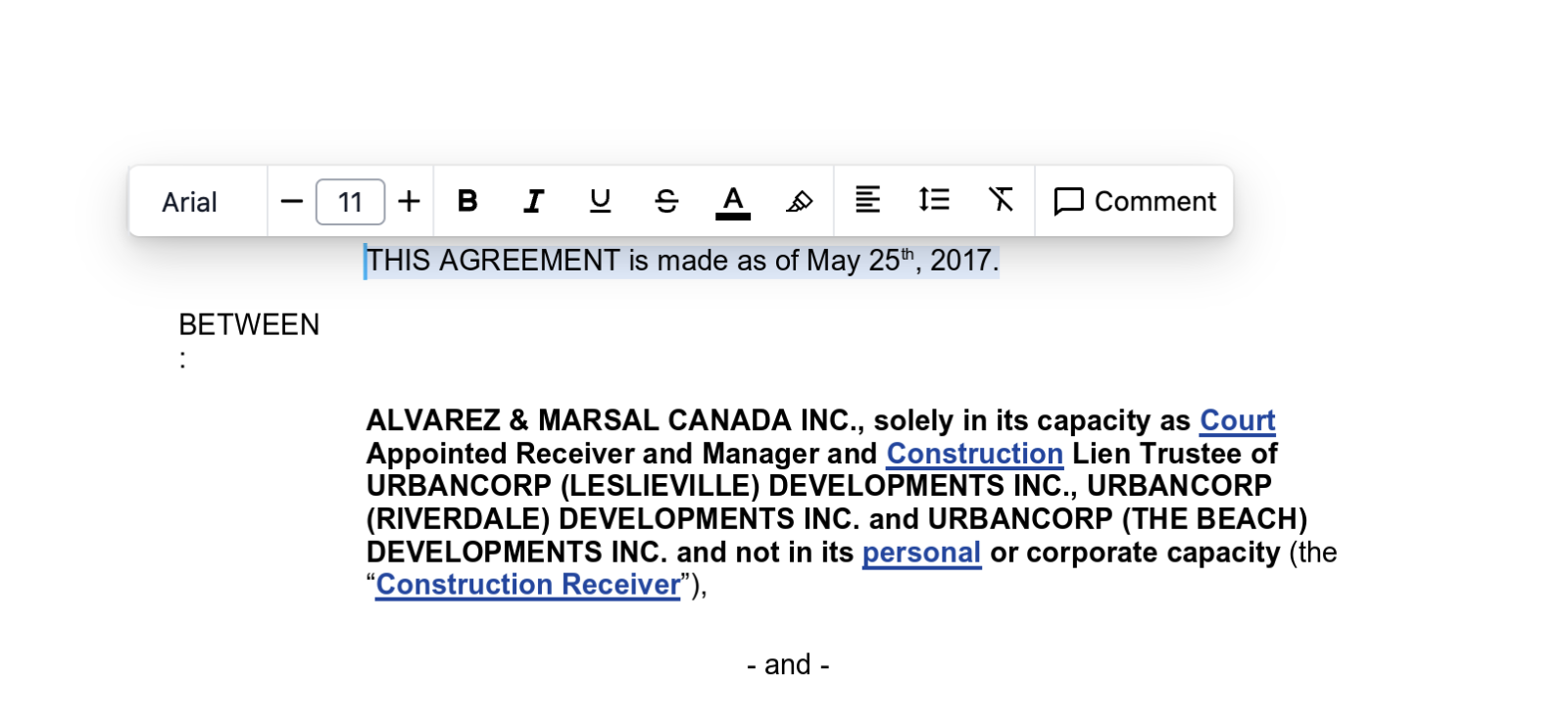 🤖 AI intelligence by your side
According to DLA Piper's 2023 AI governance report, 96% of organizations use AI to improve their work.
MacroAI is our contribution to enhancing legal work with best-in-class AI technology.
To understand the various AI tools available to lawyers, read the State of Legal GPTs.
What can Macro AI do?
✅ Review clauses
✅ Answer questions
✅ Auto-complete paragraphs
✅ Summarize long documents
✅ Find mistakes
✅ Double-check facts
✅ Rewrite sections
✅ And much more!
Here's an example: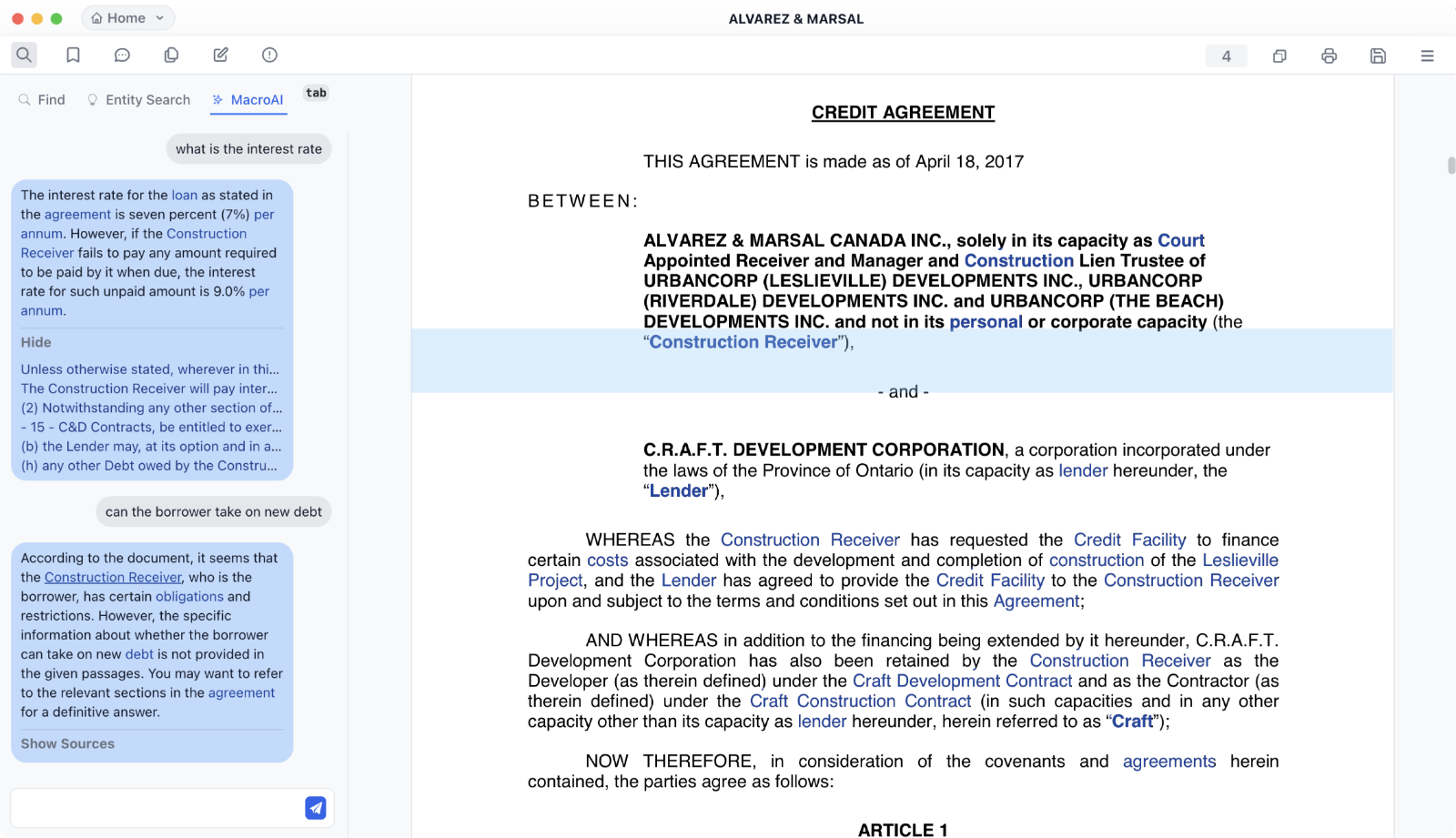 How to access MacroAI?
Macro AI is currently available in PDF mode. Click on the search icon "🔍" in the PDF editor's top left corner, then click "MacroAI."
Don't see MacroAI in your search bar?
MacroAI is available to all Professionals and Organization users. Scroll down this page to learn how to gain access or upgrade.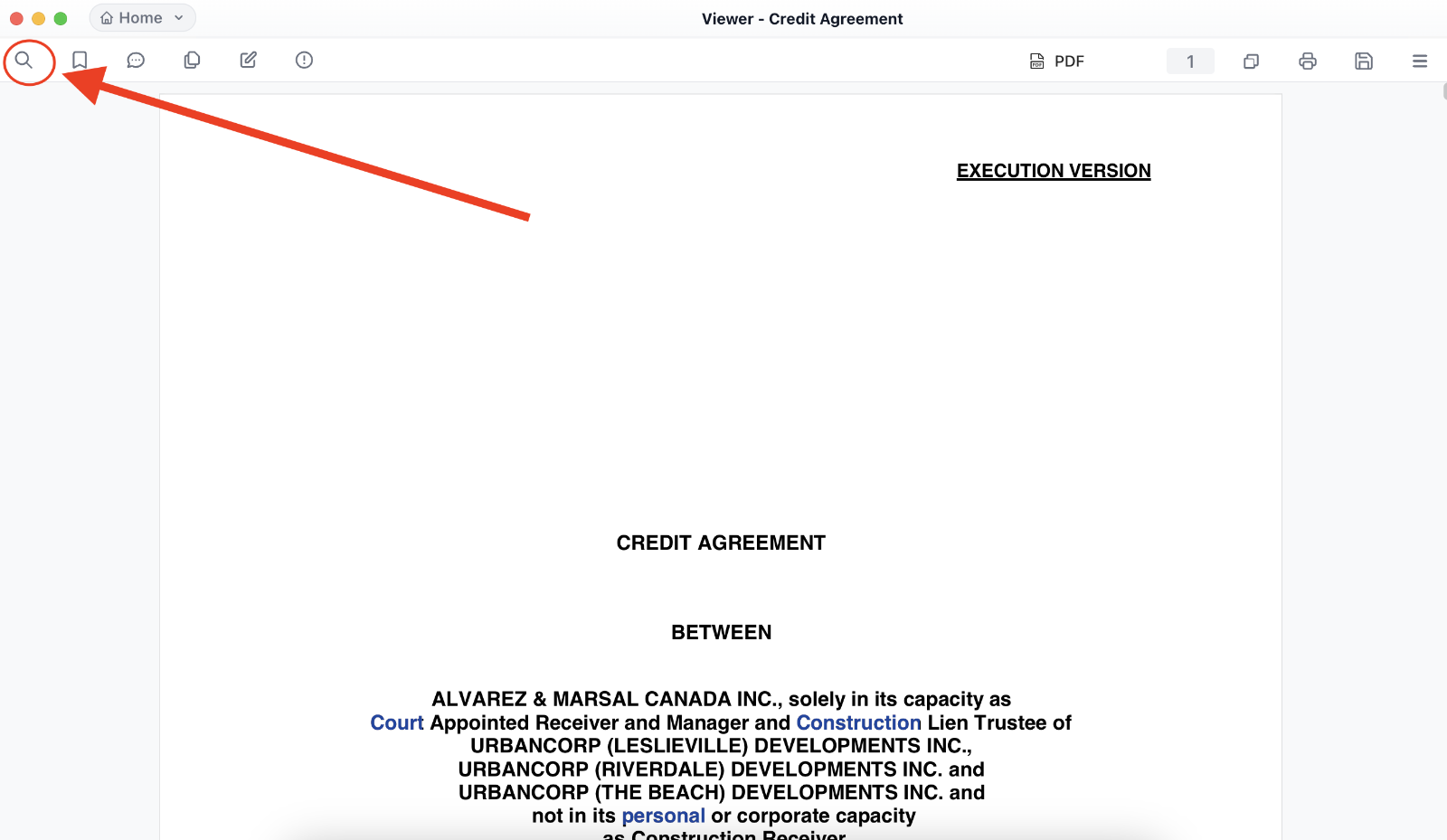 Our most significant Compare update yet
Starting today, blacklines generated by our Compare feature follow industry standards when it comes to color or codes:
Red → Deletions.
Blue → Insertions.
Green → Moves ➡️ Moves.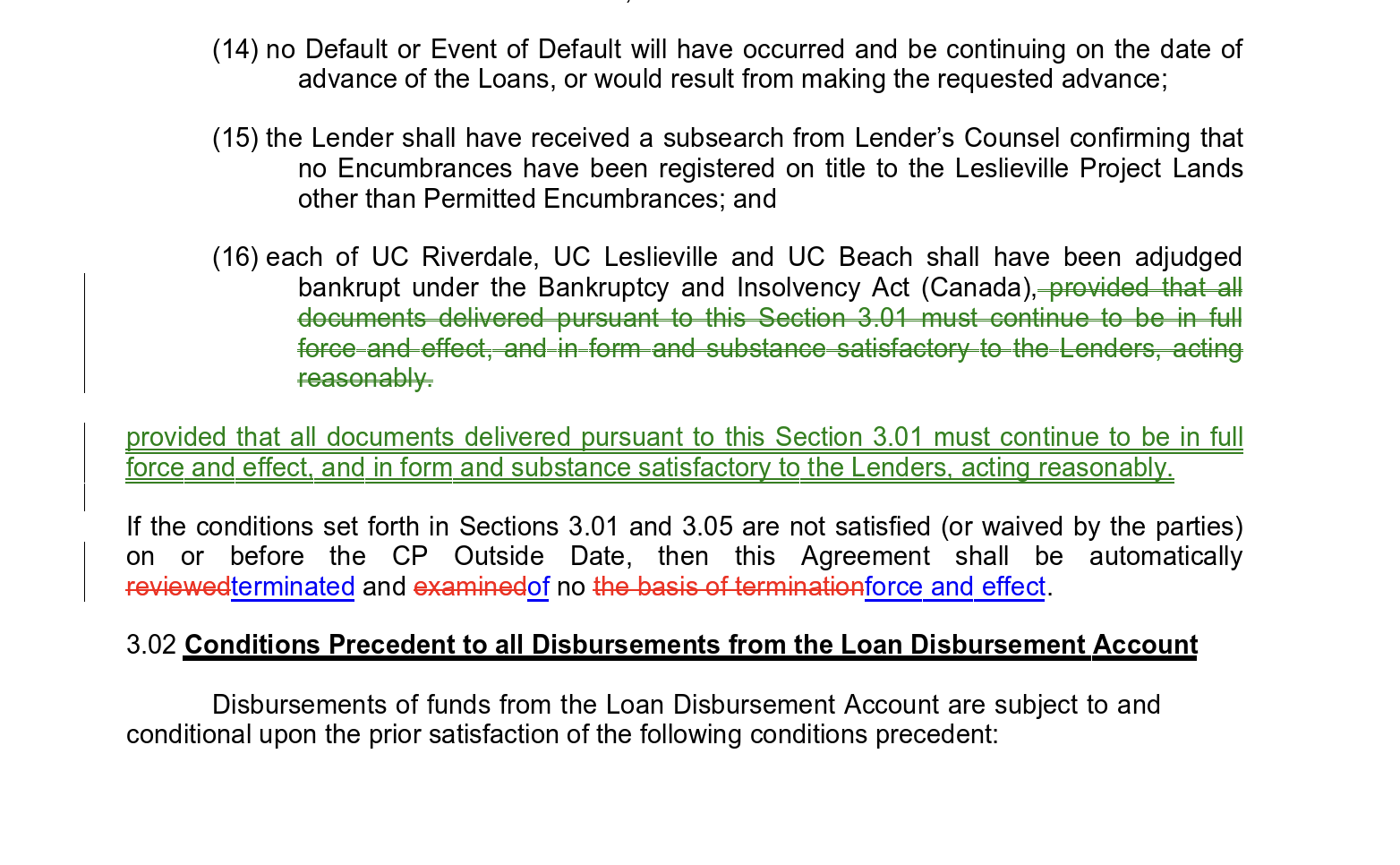 This new version also supports comparing a wider variety of document formatting, including:
Page numbers.
Tables.
Sections.
Table of contents.
And more.
Want to see what it's like to compare files in Macro? Try it 👇
How to get access to Macro 3.0
We can't wait for you to try the brand-new Macro 3.0 experience!
Most Macro users have automatic updates activated, so you don't need to do anything to get the latest version.
If you do not have automated updates or want to ensure 3.0 is installed, head to macro.com/download to download the app's latest version!
💡 Note: MacroAI is available to Professional and Organization subscribers!
Upgrading to Professional
Open Macro.
Head to "Settings".
Click on "Upgrade to Professional".
Upgrading to Organization
Contact our sales team at sales@macro.com or request a demo using this link.
Questions?
Our team is always here for you at support@macro.com.